Double Cherry Chocolate Chip Cookies. Combine flour, cocoa powder, salt and baking soda in a bowl. In a bowl of an electric mixer, or with a handheld mixer, combine butter and sugars until fluffy. Whisk together flour, cocoa powder, baking soda, and salt in a small bowl.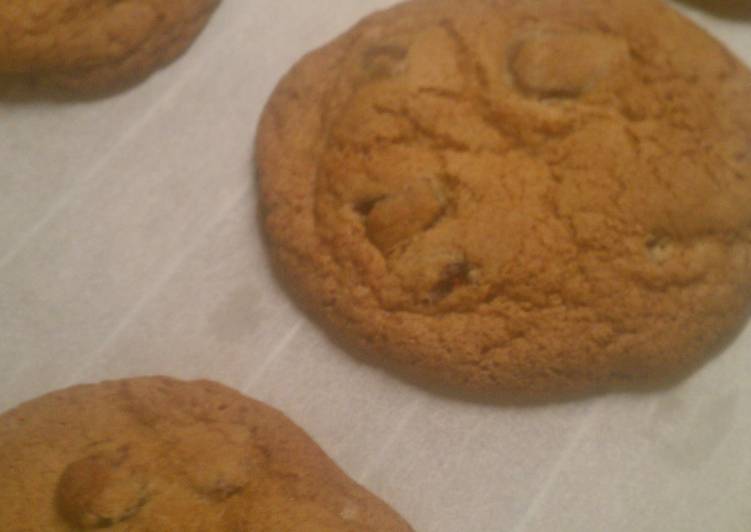 Double Chocolate-Cherry Cookies Rate this recipe Your rating. Double chocolate chip cookies are perfect for maraschino cherry lovers! White chocolate chips and semi-sweet chocolate are ideal partners for those candied cherries. How to make it simple, we can serve Double Cherry Chocolate Chip Cookies using 10 ingredients and 6 steps. Here are the ingredients and how to cook that.
Ingredients of Double Cherry Chocolate Chip Cookies
You need 2/3 cup of unsalted butter, melted.
Prepare 2 cup of lightly packed brown sugar.
Prepare 2 large of eggs.
It's 2 tbsp of hot water.
Prepare 1 1/2 cup of cherry chocolate chips.
You need 1/2 cup of dried cherries, chopped.
You need 2 2/3 cup of all purpose flour.
It's 1 tsp of baking powder.
Prepare 1 tsp of baking soda.
Prepare 1/4 tsp of salt.
I baked these soft, chewy cookies on Reynolds Cookie Baking Sheets. These convenient pre-cut sheets make baking simple! In large bowl, beat sugar, butter, milk, almond extract and egg with electric mixer on medium speed until smooth. Double Chocolate Cherry Cookies are thick and chewy, complete with a cherry in middle and a delicious fudge topping on top!
Double Cherry Chocolate Chip Cookies step by step
Preheat oven to 375°F Fahrenheit..
Combine melted butter, brown sugar, eggs and hot water and mix well ..
Stir in remaining dry ingredients..
Mix in cherry chocolate chips and dried cherries..
Drop by tablespoons onto ungreased parchment lined cookie sheet..
Bake 8-10 minutes or until lightly golden brown. Remove to wire rack to cool completely..
I absolutely love the flavor combination of chocolate and cherries and this recipe is the perfect blend of these two. The cookies are thick and fudgy – almost like brownies. And the fudge toppingView Recipe Directions. In a large bowl, cream butter and sugar. Add eggs, one at a time, beating well after each addition.