BBQ chicken with corn rice, for 2. Fluff up the rice, then serve with the chicken, vegetables and. Individual packets filled with chicken, corn, pinto beans, and barbeque sauce let all the flavors mingle deliciously. I was searching for a better way to BBQ drumsticks for dinner when I came across this recipe.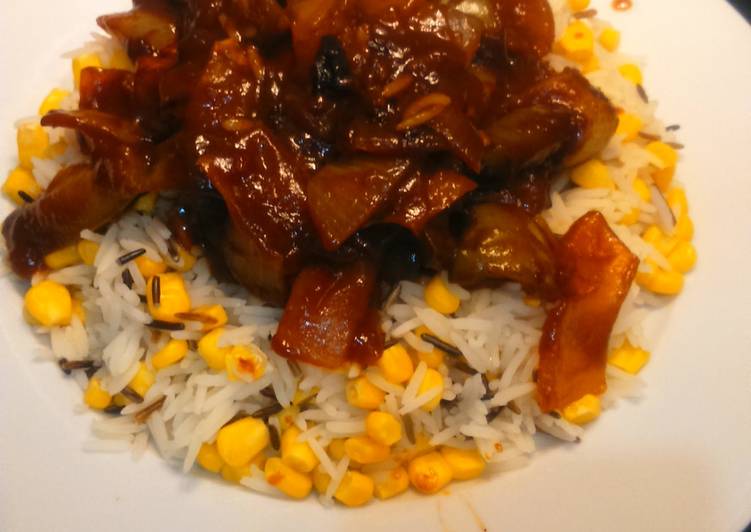 You could but that would defeat the purpose of the recipe title! Weeknights are now made easier with this one-pot bbq chicken and rice dish that has loads of flavor and comes together super easily! You'll start my BBQ Chicken Rice Bake by adding cooked rice to your cast iron. How to make it simple, we can cook BBQ chicken with corn rice, for 2 using 6 ingredients and 4 steps. Here are the ingredients and how to cook that.
Ingredients of BBQ chicken with corn rice, for 2
You need 1 cup of rice.
Prepare 200 grams of sweet corn.
You need 4 of skinless, boneless chicken thighs.
It's 1 of onion.
Prepare 1 of sweet pepper, green or red.
It's 300 grams of bbq sauce, such as Tabasco sweet chipotle and amja..
Drizzle with a little BBQ sauce. Top with a layer of corn kernels. Tips For Making BBQ Chicken and Rice Bake. *Use a Rotisserie chicken for speedy prep time. Season chicken with salt and pepper.
BBQ chicken with corn rice, for 2 step by step
Add the chicken, pepper and onion to an oven-proof pan or dish, and pour on the BBQ sauce, and mix well. Pop in the oven at 180°C for 20 mins..
After 20 mins, leave the chicken in the oven and bring a pan of water to the boil and add the rice. Boil according to the pack instructions. The chicken should have now been in the oven for about 40-45 minutes in total..
Add the sweet corn for the last few minutes of rice cooking, then drain and wash with boiling water..
Serve the chicken over the rice..
Coat with bbq sauce and grill until sauce is thickened and caramelized. Stir in the soy sauce, red wine vinegar, tomato paste, sugar, and chicken stock. Drain the sweet corn and add it to the rice with salt, pepper and a drizzle of oil. Stir together and then put the lid on to keep warm. Rip the leaves from the coriander or parsley, scatter them over and serve.